yFiles
product details
Features
Diagramming that fits your needs
yFiles is the most advanced and complete diagramming solution on the market. Our powerful and flexible API offers a wide array of functions - right out of the box. Simply choose the ones that match your needs best.
Suitable layouts for every use case
Choose from a huge number of predefined layouts and configure them to perfectly fit the task at hand.
yFiles provides the widest range of high-quality automatic layout arrangements in the industry. Over a dozen different implementations with several hundred different settings let you fine-tune the results. With the right algorithm and configuration, you can add relevant information to visualizations, helping users find answers to their questions, simply by looking at the diagrams.
Incorporate business data, graph analysis results, and user input to drive the configuration and highlight key aspects. Use animation to blend between different layouts and help users keeping their mental map with smooth incremental changes.
Countless interaction possibilities
You decide what your app can do. Easily customize the interaction with graphs and diagrams, for efficient, intuitive work on your use case.
Use keyboard, mouse, touch, and pen input to interact with the diagrams and data. Provide dynamic help, visual feedback, and tailored interactions to provide the best possible user experience.
Customized, meaningful designs
Include all of the information you want to show – within the design itself.
Adjust the design dynamically to the zoom level or data updates. Show dynamic data as part of the visualization and depending on the context. Add interactivity and reactivity to the diagrams. Configure your design to show just the amount of information your users require.
Enjoy automatic layouts
Assist your users as they create and explore their diagrams. Use automatic layouts to build clear and beautiful diagrams from your data at the touch of a button.
Automatically update your visualizations when data changes, while maintaining a consistent design. Highlight important aspects in both the structure and the meta data of your diagrams.
Connect all types of data sources
yFiles can handle all types of relational data, no matter where you store it or how you create it.
Connect to one or more databases, graph databases, data stores, or other resources. You're free to use every protocol available on the platform. The choice is yours!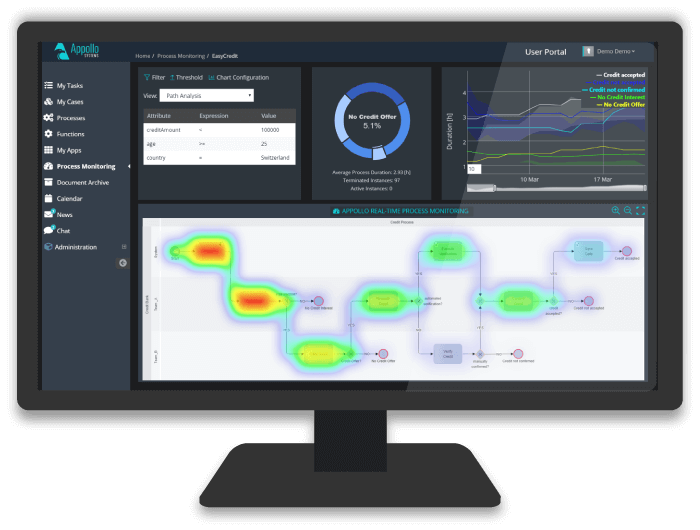 Integrate yFiles in your system
yFiles will perfectly enhance your existing application or framework. Technically as well as visually – by reflecting your corporate design or the app's look and feel.
No Matter what technology you are using. Add yFiles to existing apps, dashboards, and reports, or create new stunning apps that seamlessly integrate with your line of products' look and feel.
Connect to any of your data sources and systems to create reactive and engaging applications that integrate perfectly with your users' work flow.
Add on:
VSDX Export
Due to the high demand, we offer an additional add on that allows you to export all graphs also in Visio format VSDX.
This add on is only available for yFiles for HTML.
VSDX Export
Thank you very much for your prompt help and great support. The framework is impressive and we will definitely continue to use it.Dirk Stoermer, ATLAS.ti
Coming soon!
Our annual major release for yFiles will offer lots of new options! Starting with the web platform (HTML), it will then be rolled out for .NET and Java as well. Development is already in full swing. Soon, you'll see the new features here.
In the meantime, take a sneak peek at the upcoming Cactus Group layout – or review the 2021 feature highlights of yFiles.
yFiles 2021 brings awesome new layouts and source-code demos, plus outstanding innovations for the HTML platform. This includes simplified support of technologies to make yFiles even faster and better, like WebGL2 and Web Workers.
We wanted to make it easy for new users to get started with the SDK. But experienced yFiles developers will appreciate our new Dev Suite, as well.
By the way, all source-code demos are now available in JavaScript and in TypeScript!
And for the .Net platform there is even more good news: yFiles now supports .NET 6!

Read about the yFiles for HTML 2.4 release in our blog.
What's new in yFiles 2021?
Technologies
yFiles platforms & variants
yFiles is available for 5 major platforms: HTML, JavaFX, Java (Swing), WinForms and WPF.
While yFiles is very similar on every platform, there are some minor differences due to the respective technical specifications.
Thanks to similar APIs across the different technologies, it's easy to migrate between yFiles products to cover new platforms. So there's no need to start from scratch when technologies change (and they will)!
Advanced integration possibilities
Isometric
Layout Styles
Metaballgroups
Process Mining
Sankey
Template Styles
yEd Live
Experience a rich demonstration created with yFiles for HTML.

Try yEd Live our free online diagram editor.
Launch yEd Live
Test and experience
yFiles free of charge!
Fully-functional yFiles version
Free access to our high-quality support, to help you start easily
More than 100 source-code examples for rapid prototyping
Extensive step-by-step source-code tutorials that cover the essentials
Free resources like our Developer's Guide, documentation, IDE setup tips, and more
Got questions?
Ask our Customer Success Team!
We're here for you – no matter whether you need technical support, are thinking about a license, or want to provide feedback.
Support & help
We want your development to succeed.
Have a look at our free, valuable resources:
Licenses
& pricing
We offer a variety of licenses to match your precise needs.
All yFiles licenses are perpetual, with zero royalty fees. You can add an optional annual subscription for maintenance and support.
The right yFiles license is just a few clicks away. If your requirements are not covered, let us know – we also offer individual, customizable licenses.
Choose what suits you:
License Tool
Choose your
next step!
Get connected
Talk to our Customer Success Team about your ideas or project.
Reach out!
Download yFiles
Try yFiles and our high-quality support free of charge.
Start now!
Why, how, what? —
Just ask the diagramming experts!
Our team is happy to advise you – no strings attached. Let's talk about your project and find the perfect solution for your needs!

E-mail: hello@yworks.com

Thank you!
Your message has been sent.
We are sorry,
Your request could not be sent. Please reload the page and try again.
If the problem persists, please report the error to
webmaster@yworks.com
.
The data you enter will only be used to contact you regarding your request.
Learn more in our
privacy policy
.